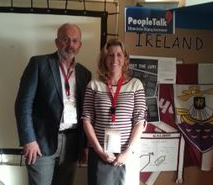 5 November, 2013.
For three days last week - 29-31 October - PeopleTalk was a guest at the Borders to Cross Conference in Amsterdam. The conference was organised by a number of agencies including the Netherlands Ministry of the Interior and the University of Amsterdam. Along with Edmond Grace, the Director of PeopleTalk, Denise Feeney, a Galway County Council official and Coordinator of the Galway County Community and Voluntarty Forum was also present. [See photo of both at the PeopleTalk 'stall.'] This was a significant gesture from the County Council and, as will be seen below, reinforced an already positive perception of Ireland.
About three hundred people from many different countries in Europe, and some elsewhere, were at this event. They was mostly made up of community activists but there was a significant number of academics public servants and politicians - as well. All had one thing in common - a keen interest in 'democratic innovation.' Along with thirty nine other project PeopleTalk was given chance to present itself and, to by the conversations with others during the conference, it was more than well received. Some of those conversations stand out - with a public servant from Finland, with more than one from the Netherlands, with the Deputy Mayor of Ravenna in Italy, with an organisational consultant from Naples.
As for the differend projects,....
and what was to be learnt from them, perhaps the most interesting was quite near home. In Lambeth Borough in London - called the Workshop - set up business in a vacant shop in West Norwood and in the initial phase 540 conversations were held between local residents and 58 council and partner staff members. These conversations led to some fresh ideas about how we could overcome the challenges of collaboration and how to make West Norwood a better place to live. In another project in RAvenna a group of young public servants, with training in social mediation and participation stragegies, were allowing a group of young civil servants, to act freely and to show their accountability by their results. Moreover a deputy mayor was installed for participatory public decisions. The project has lead to a growing number of very creative and interesting participatory projects. Every one of the projects beinf presented at the conference was of real interest. Indeed the overall impact was almost bewildering.
A number of those present were acquainted with of the constitutional convention currently being held in Dublin and were intrigued to hear that PeopleTalk has been endorsed by all the political groupings in Dáil Éireann and by Galway County Council. The presence of a County Council official this endorsement and the impression that, while other countries have a gread diversity of experiments in the area of deliberative democracy, Ireland is leading Europe in the level of recognition being given by political leaders at every level of government.